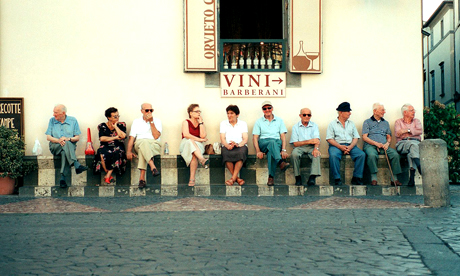 The numbers we use to understand time might be universal, but as a concept it's culturally malleable.  For example, in Germany, a place where things are precise, an appointment for 2pm means you are expected there at 2pm.
In the US, a culture of eagerness and over-achievement, for that same appointment, one would expect someone to show up between 1:45 pm and 2 pm if they were serious about it. Maybe 2:05 pm if they weren't.
In Italy, an appointment for 2pm really means anywhere from, say, 2:30pm to…  never.  
Being late in Italy doesn't warrant an apology, nor does it have to actually be acknowledged.  One can even exercise their right to not show up at all and offer no explanation.
The concept of time is flexible and changes based on where you go, and in Italy it's incredibly flexible.  There's a whole vocabulary in Italian of vague terms that refer to how long things will take:  un' oretta (a small hour), una decina di giorni (10-ish days), and there's the different ways to interpret time too, such as "90 days" which could mean literally, 90 days from today, or it could mean 90 "working days" which can take 7 months or more.
It's basically all meaningless unless, of course, we're talking about food, in which case time is not so flexible.  
In many countries, we eat when we feel like it.  Breakfast for dinner, 24 hour restaurants, etc.  But in Italy, one doesn't eat lunch at 11:30.  Ever.  Dinner at 5:00pm?  An Italian would think, "what the hell is that?".  It makes no sense here to eat dinner that early.
Time in Italy revolves around food.  Think of the clock like this:
Generally speaking, the morning lasts until 12pm, when lunch time (pranzo) begins, lasting until 3pm.  Morning is also the only time one would have breakfast, which in itself is optional – although lunch is not!
Between those times you can have a merenda (a snack) or getting closer to dinner you can go for an aperitivo.  Coffee you can have anytime, but milky coffee drinks only in the morning – while a cappuccino is frowned upon in the afternoon, a caffè latte is tolerated.  And a milky coffee drink is not an apertivo or dessert.
Aperitivo time (what we call wine-o'clock) can be 6:00, maybe 6:30pm, and goes on either until dinner, or can even substitute for dinner depending where you have your aperitivo.
Dinner (cena) begins around 7, 7:30pm when restaurants re-open.  But if an Italian invites you to dinner at their home, they probably expect you there between 8 and 9pm.
All those other numbers that mark the non-food related times of the day?  When in Italy, don't worry about them.
The moral here is twofold: when traveling in Italy, don't stress too much about being late.  Go with the flow. Unless it comes to meal times, in which case plan exactly where you'll be and when so you don't get caught in that dead zone between 3pm and 7pm.
And remember, l'ora di pranzo è sacra (the lunch hour is sacred).